Quebec
About Quebec
Full of history and heritage sights, epic nature and boundless urban energy — there's nothing in North America quite like Quebec. Discover our participating malls in and around Montreal and Quebec city!
Our centers in Quebec
Le Centre Eaton de Montréal
Located in the heart of downtown Montreal, Centre Eaton de Montréal is the most visited shopping mall in Canada's second-largest city. With over 150 retailers to explore, there's something for everyone here. Brands such as Uniqlo, Sephora, B2, Samsung, Aritzia, Boss and much more make the Centre a shopping paradise at one place, in a unique shopping atmosphere! To top off this experience, visit Time Out Market – an incredibly diverse and innovative eating-and-drinkin destination, where you can enjoy city's top chefs freshly prepared and delicious cuisines.
Laurier Québec
Laurier Québec is a shopping destination offering a wide range of products from fashion to everyday items. With more than 160 boutiques and restaurants, Laurier Québec is distinguished by the quantity and diversity of its stores. Enjoy access to renowned stores, such as H&M, Marchalls, Sports Experts, L'imaginaire, Renaud-Bray, Old Navy and Best Buy, all in one location! Laurier Québec's convenient location near Place Ste-Foy and Place de la Cité makes it a must for shopping in Eastern Canada. Why wait? Come shopping for your favorite brands at Laurier Quebec, it's definitely worth it!
Place Montréal Trust
Place Montréal Trust is conveniently located downtown core, a steps away from the Centre Eaton de Montréal, and linked to the underground's city. It is home to the two-stories Zara flagship store, as well as a huge Indigo bookstore, Winners, DeSerres, Pilgrim and Nautilus Plus fitness centre. While you're there, take a look at Canada's tallest indoor fountain or, during the holidays, come and admire our sumptuous 5-stories iconic Christmas tree. It's guaranteed to amaze!
Place Ste-Foy
Treat yourself to an exceptional shopping experience at Place Ste-Foy! The centre offers a modern contemporary design and diverse mix of fashion, lifestyle and community. With well over 120 top brands, such as Apple, Birks, Nespresso, Simons, lululemon, Lacoste, Zara and many more, Place Ste-Foy is widely recognized as the hub for high-end fashion in Quebec City.
Galeries d'Anjou
Make exceptional finds at Galeries d'Anjou, your ultimate fashion destination. With over 160 stores, boutiques and restaurants to choose from, it is one of the largest shopping centers in Montreal East. You will find large stores such as Hudson's Bay, Simons, Sports Experts/Atmosphere, Brick and Winners. Whether you are looking for fashion inspiration or a refreshing shopping experience, Galeries d'Anjou is the place to go!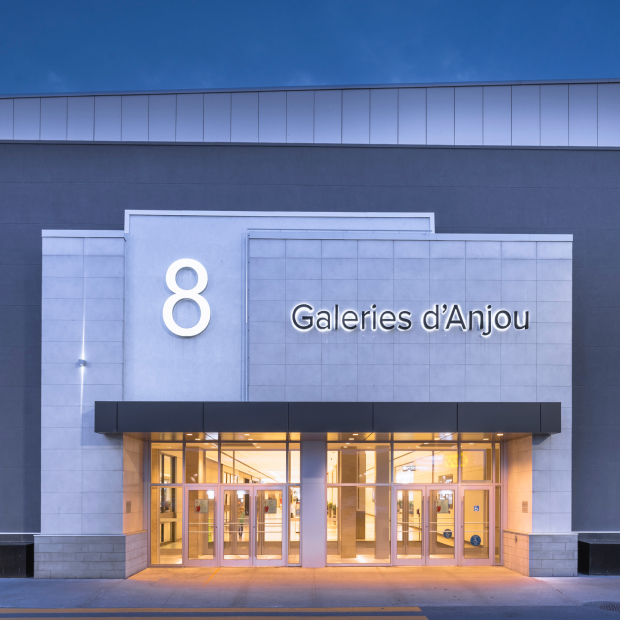 Corporate Giftcard
Reward your employees, collaborators and business partners by offering the flexibility to choose where to spend their gift cards.